UPDATE: I'll add more posts as they get published.
Beth Mayes reviews her first Tru experience – Guest post: Oxfam @#trulondon by @KBMayes
Wannabe recruiter Ruxandra Fratescu starts blogging with her view of the Tru London experience – My #trulondon experience
The HR Rockstar asks why we go to conferences – #trulondon and Women of HR
Wise Man Say looks at why Gen Y hates personal branding – 5 reasons why gen Y hates personal branding (And what we're going to do about it)
Boolean Blackbelt's review of the event – #TRU London 3 Recruiting Unconference Review
BillBoorman updates us on the #trugrad project – #TruGrad Guest Post: Ruxandra Fratescu: Why I want to be a recruiter #trulondon
Tru London Radical Rant – what a great video
Etienne Besson (aka HappyEmployee) provides his review in Tru London 3 – a quick recap and here's Etienne's pre-event post too . . . Tru London 3 – Why I'll be there
Louise Triance provides her networking summary from Tru London – Tru London and networking summary
This one slipped through the net – how did I manage that? – John Sumser's excellent round up of Tru London
The Direct Recruiters Blog provides – Musings on #Tru London 2011 – Recruitment and Referrals
I wrote another post about #trulondon. This one is on the comments site built for the event – How a conference backchannel can add real value
Damon Klotz, aka the HRockstar, travelled to Europe for a month and spent three days at #trulondon. Here is his review – #Trulondon – the HRockstar in London part 1
#Tru organiser Bill Boorman has written this great review (and given me some props) – #Tru London thinking: how to break stuff – conference edition
Molly Flatt at 1000heads provides this post on The future of work
Andy Headworth on using Wordle as a recruitment tool – Great tip to recruit the candidate you really want using Wordle
Laurie Reuttimann provides her soundtrack to Tru London 3 
Geoff Webb's great video of Tru London 3
Jobsites post on talent communities – The top 5 thngs you need to know about talent communities
My post on Amazon Jobs a jobs board for the future
The evolution of #trulondon by the Red Recruiter – TruEvolution in London
Bill Boorman on key findings from job board data – #trulondon thinking – location, location, location; job board futures
Nigel Seed starts his blog (was it inspired buy the event?) with a #trulondon review – #trulondon – post event blog
Jorgen Sundberg writes his thoughts on his personal track – Personal branding at #trulondon
Fishdogs, aka Craig Fisher, reviews his scary good moments – My top 10 #Tru London 2011scary good moments
Charlie Duff at HRZone looks at employability in Employability skills – graduates and beyond

James Mayes looks at the influence of live tweeting an event in Influence vs impressions, Tweetreach and conferences
James also looks at a new Twitter app Twileshare: New Twitter app Twileshare. So many uses!
The Future Series: Born of #Tru – Felix Wetzel looks into the future
Mervyn Dinnen on talent communities in his post Recruiting like Radiohead
HR Connexxions provides Five take-aways from Tru London 3
Peter Gold urges you to Adopt a student and help them find a job
The host with ther most, Bill Boorman, looks at #trugrads in My #trulondon thinking and the #trugrad program
Rhiannon Hughes looks at the graduate track – The world of graduate recruitment – please mind the gap
Stephen O'Donnell on why TruLondon worked so well – #TruLondon Imagineering
Geoff Webb, aka Radicalrecruit, gives his assessment (which may cause some eyebrow raising) – A radical in London – notes from Tru London 3
China Gorman's review of and learning points from Tru London – The King of all social recruiting
James Mayes provides his review in a word cloud
The Sourceress has penned her highlights -  #TruLondon 3 – Never Be Untru
Mark Wiiliams, aka Mr Linkedin, gives his review of Trulondon #3 – The Good, The Bad and The Ugly! (My thoughts on TruLondon 3)
Recruiter interviews Rob Van Elberg in its story on candidate relocation.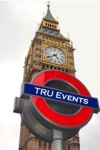 Only two days after the event and there are already more than 20  posts to read – and every single one of them is worth taking the time. Apologies if I missed anyone – the Tru bloggerrati are just getting going. I know Bill is curating them all over on the Tru London 3 Facebook page, so make sure you add yours there.
In the meantime, this is what I have managed to pull together so far . . .
Jamie Leonard reviews his first time at Tru London
Meghan Biro looks at the emerging trends around social media and recruiting in Recruiting: Power of people connectivity
Lisa-Mari Jones aka ITstrategylisa uses a word cloud to reflect on her Tru London 3 experience
Peter Hros, aka HRbeginner, sums up why you will be back in 10 reasons you will never miss the #trulondon unconference again
Does authenticity make your butt look big? asks Heather Bussing over on HR Examiner
Anonymous UK HR director and blogger The HRD on his session with Larie Ruettimann on HR being (or not needing to be) strategic
You can here Laurie's thoughts on that session in this audio interview.
Co-founder of ConnectingHR Jon Ingham wrote 5 posts in quick time. And they are:
Tru London – be social to compete
Tru London – why I told Kevin Wheeler he was talking rubbish
Tru London – How HR and recruiting can be strategic
Tru London – Why does 95% of what we do on HR focus on individuals (when what's most important is teams)?
Tru London masterclass: social HR

Nice round-up of key learning points from the Wisemansay blog – Social media and recruitment – 10 lessons from Tru London 3
Laurie Ruettimann in reflective mood with Off the grid Fridays – nostalgia and #trulondon
The social agency Tru London 3 Live blog from Social Talent
Pros and cons of RPO – Tru London Live blog from social talent blog
Andy Headworth's Social Recruiting Corner takes a look at Tru London
And again from Andy, a great post from a great track on how famous film quotes can highlight some social media myths
My two days at Tru London from Mark Lennard
First impressions from a newbie track leader, Andy Hyatt, head of digital at Bernard Hodes Group – An introduction to the world of unconferences, starting with trulondon

Reflections on Alex Charles's masterclass from Bill Boorman